Keto diet may be all about that fat but that doesn't mean protein plays an important role too. Too much of it, and you're no longer in ketosis. Too little of keto, and you risk losing important muscle mass. The ketogenic diet plan is a high-fat diet, and poultry tends to be low in fat unless you eat the skin or organ meats, so make sure you're taking in plenty of fat when serving these dishes.
Chicken has to get the greatest source of protein and It is delicious on a keto diet. Keto chicken recipe is a famous and delicious recipe that eaters love to eat these recipes. In these recipes, If we added some vegetables then it makes more yummy and healthy.
If you are looking for the best and delicious keto chicken recipes that fit your diet. All these recipes are low carb, yummy, and dairy-free. These recipes are a pretty healthy bunch of delicious recipes.
Here are Top Favorite List of Keto Chicken Recipes With Their Ingredients
1. Keto Golden Chicken Fritter Balls recipe
Keto is not all salad and vegetables. You can make amazing and delicious recipes that everyone in your household will love to this keto golden chicken bacon fritter balls recipe.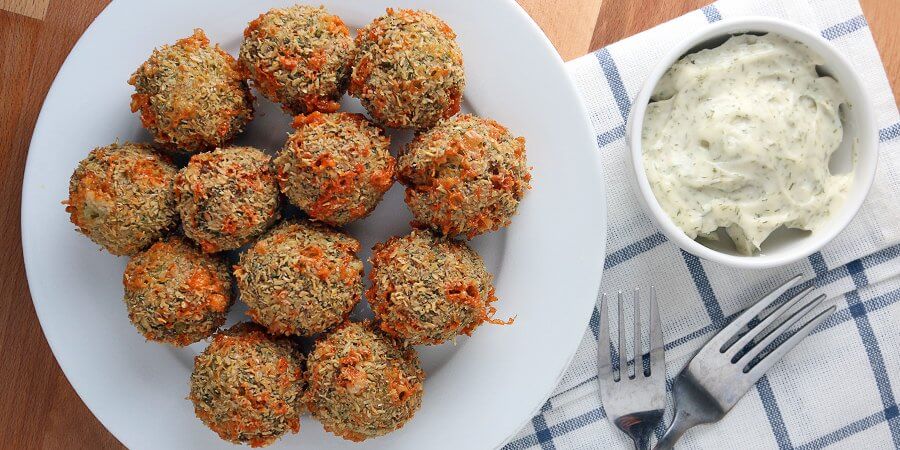 Ingredients and Quantity- ground chicken, bacon, egg, green onions, garlic, olive oil, almond flour.
1 Chicken breast, 225 g ground chicken
4 slice of bacon, diced
1 egg
2 greens onion
2 cloves of garlic, peeled
1/4 cup olive oil
1/2 cup almond flour
How to make – Cut up a chicken breast into 2-inch cubes. And then grind it down.
Boneless skinless breasts will be your best bet for mincing, but if you do not mind a little extra work you can de-bone raw chicken yourself.
2. Asian chicken wraps with tahini tamari sauce
This recipe is the perfect quick lunch that is full of flavor as well as protein and vitamins. Lettuce makes this recipe great wrap alternative and tahini tamari sauce is such a tasty ingredient, you want to add this to everything you make.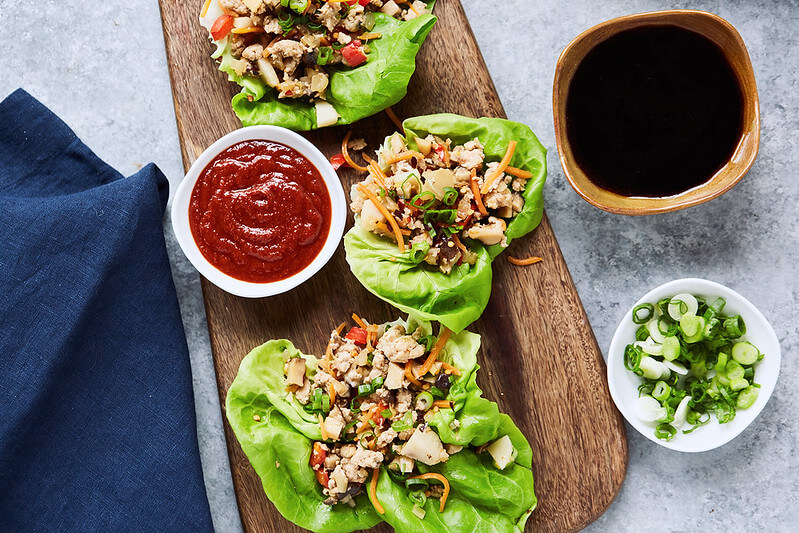 Ingredients and Quantity- chicken breast, cucumber, bell pepper,cilantro leaves, zucchini,, coconut oil/olive oil/avocado oil, tahini paste, tamari sauce, romaine lettuce leaves.
Cut the chicken into 2-inch long strips that they can fit into the wraps easily.
Pan-fry the chicken breast slice. And then you can use oil which you want to eat avocado oil or olive oil or coconut oil.
How to make- Make the tahini tamari sauce by mixing together 1 tablespoon of tahini paste with the half tablespoon of tamari sauce. This sauce taste should be fairly salty already, so there's no need to add in additional salt. You will end up with a fairly creamy looking sauce. If you want to make a more liquid consistency to your sauce, then you can add in a bit of avocado oil to thin it out.
3. Keto Zucchini Enchiladas
Chicken gives enchiladas protein power, a special shoutout goes to the zucchini slices. Once they have been stuffed with the meat and topped with the sauce and cheese, you will hardly notice that there are barely any carbs in this dish.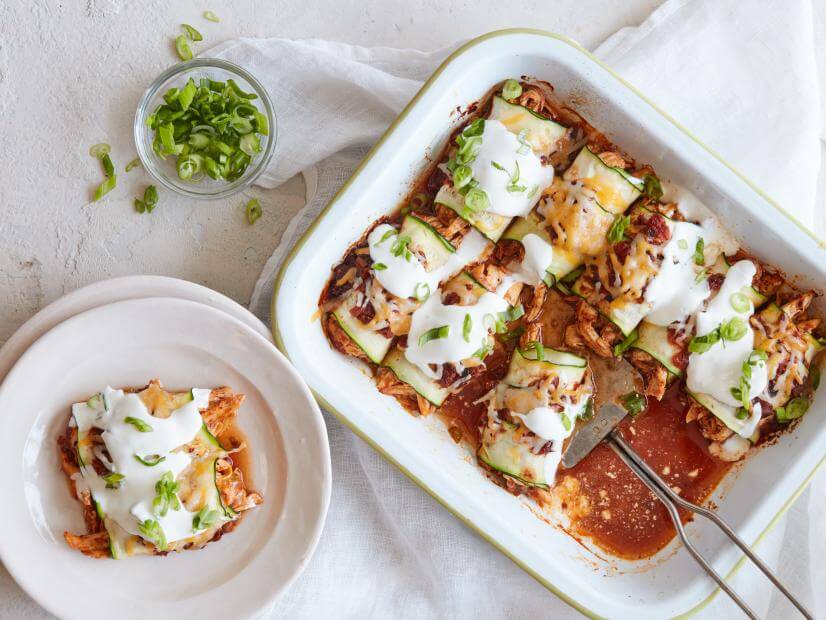 Ingredients and Quantity-
1 tablespoon extra virgin olive oil
1 large onion
Salt and black pepper to taste
2 cloves garlic
1 teaspoon ground cumin
2 teaspoon chili powder
3 cups free-range organic shredded chicken
1/3 cups red enchilada sauce
4 large zucchini
1 cup shredded cheddar
1 cup shredded Monterey jack
Sour cream for drizzling
Fresh cilantro leaves for garnishing
How to make:-
Preheat at 350°. In a large skillet over medium heat, oil. And then add onion and cook, stirring, until soft, 5 minutes. And then also add garlic, cumin, and chili powder and season with salt. Cook until fragrant, about 1 minute. And then add chicken and 1 cup of enchilada sauce and stir until coated.
Use and cut a Y-shaped vegetable to peel thin slices of zucchini. And divide into 3 slices, and slightly overlapping, top with a spoonful of chicken mixture. Roll up and transfer to a baking dish. And repeat with remaining zucchini and chicken mixture.
Bake the cheese is melty and enchiladas are warmed through, 20 minutes.
Top sour cream and cilantro before serving.
4. Chicken, Bacon and Apple Mini Meatloaves
This recipe is one of the famous and versatile recipes. You can serve this recipe with salad, veggie sautee, or some cauliflower mash for a delicious and wholesome keto lunch or dinner.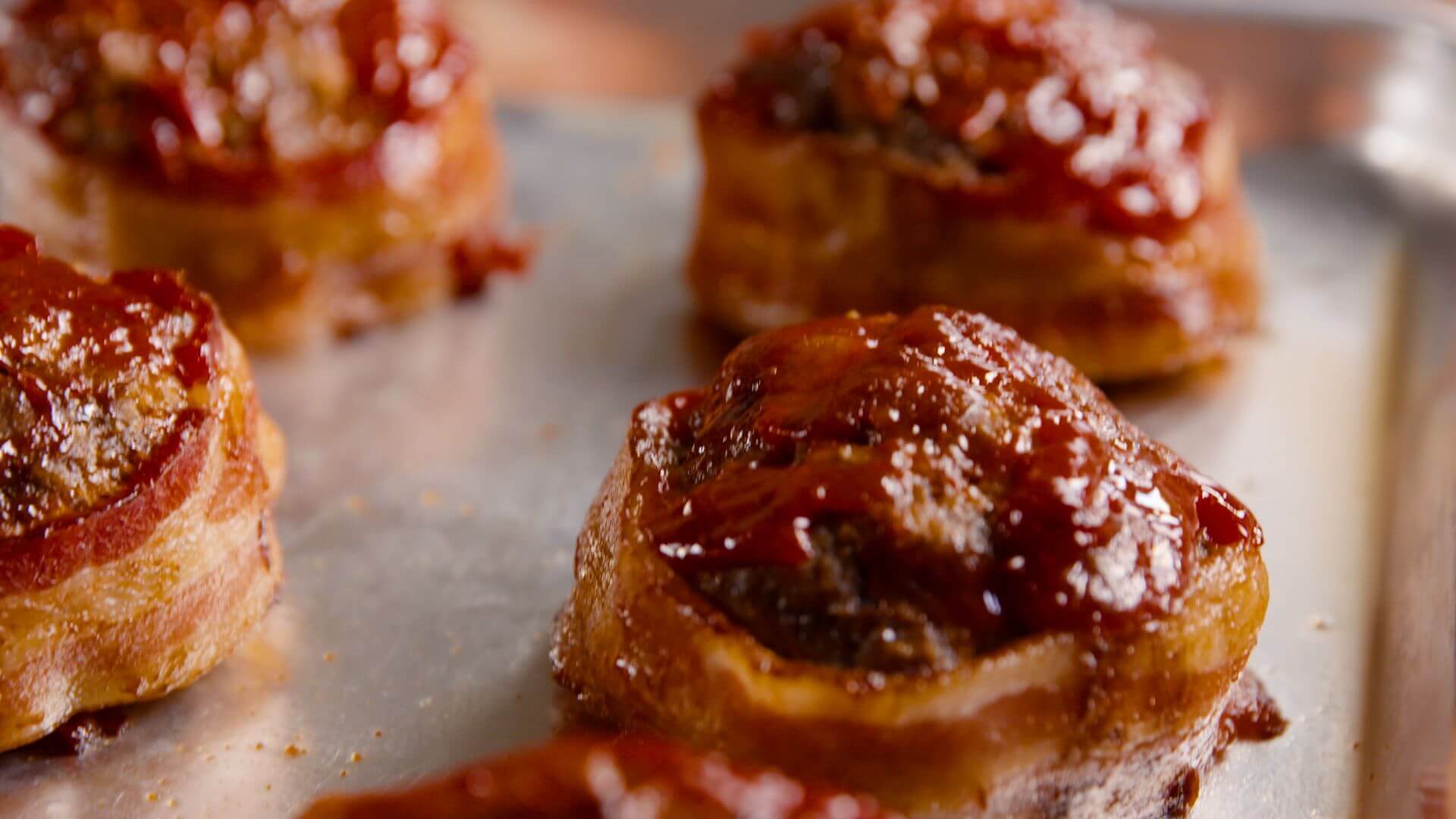 Ingredients and Quantity- Apples, chicken breasts, bacon, olive oil or avocado oil, salt.
1 1/2 apples, into small cubes
2 chicken breasts minced
8–10 slices of bacon, cooked and crushed into bits
3 Tablespoons olive oil or avocado oil
1 teaspoon salt for taste
How to make:-
 Preheat oven to 400F.
 Cook the bacon.
 Dice the apple.
 Mix all ingredients in a large bowl.
5. Keto Chicken Bulgogi Recipe with Sesame Garnish
This keto chicken recipe is a famous recipe. This type of recipe is tasty and delicious which makes dieting a fantastic experience.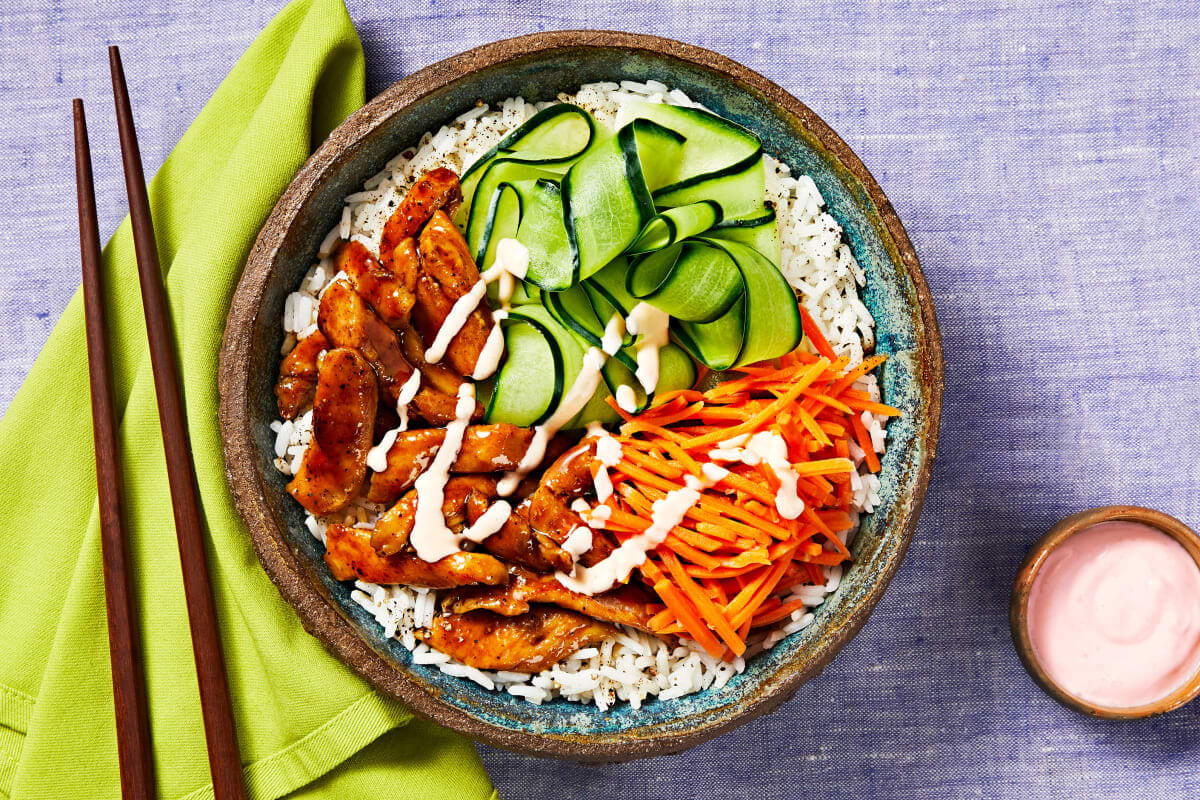 Ingredients and Quantity- avocado oil, chicken breast, onion, gluten-free tamari sauce or coconut aminos, sesame oil, garlic, sesame seeds, salt.
3 Tablespoons of avocado oil to cook
1 chicken breast, cut into a thin strip
1/2 medium onion, diced
3 tablespoons gluten-free tamari sauce.
1/2 Tablespoons of sesame oil
2 cloves of garlic minced.
1 A teaspoon of sesame seeds for garnish
Salt to taste
How to make:-
Cut the chicken into small pieces
Wash and cut green onions into 1-2 inches.
Mince garlic and ginger
Mix all ingredients into a bowl.
Cover the refrigerate at least 12 hours
Preheat the pan with vegetable oil
Cook the meat on pan fry on medium heat
And then serve the plate.
Conclusion
There are many creative ways to cook chicken. As we know that chicken is a keto-friendly to boost fat. And the keto lifestyle has to be enjoyable and start by eating awesome food.
Suggested Blogs:17 Homemade Juice Recipes for weight loss